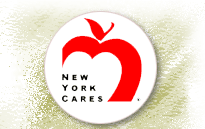 As of February 2002, much help is still needed with the relief effort in New York City. Click on the apple to your left to find out about ways you can help. Thank you.






To find out about the Physicians' Committee for Responsible Medicine, click on the text to your left. You'll be glad you did!
---
Imagine that instead of having water on tap in your home, you have to walk miles each day to collect it. Imagine that when you reach the water source it is a muddy hole in a dried-up river bed. Over 1.1 billion people do not have access to safe water supplies close to home. It's easy to help--and free. Simply click on the picture below, and follow the simple instructions. Thank You!