The V.I.B.E. Experience :: an unforgettable journey
a VIBE Machine in Boulder, Colorado
Have you ever wished you had more energy?
Bless our humble VIBE Machine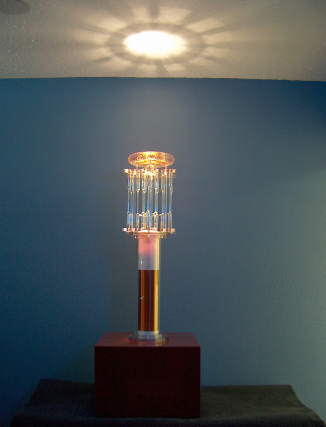 New to margretville in 2004: The VIBE Machine.
First of all, you're probably wondering: What is the VIBE Machine? Well, the VIBE Machine is an electronic device that has been scientifically shown to have the capacity to bring the vibrational level of your body back to its natural state of being.  VIBE stands for Vibrational Integrated Bio-photonic Energizer.
The VIBE Machine utilizes technologies based on the theories of Tesla and other scientists. Using these pioneering techniques, the device can help to increase the cellular frequency amplitude back to its original healthy state.
According to the VIBE Machine's inventor, Gene Koonce of Greeley, Colorado, there are four general ways imbalance is created in the body. They include toxic substances we eat, pollutions we breathe, exposures to negative energetic environments, and how we process information in our thinking and feeling.
The human body has a higher frequency or vibration when it is healthy and a lower vibration when sick. The VIBE Machine has been shown to bring about many longterm positive effects on the body and has become a welcome new spin on an already established and proven technology.
If you are interested in seeing or trying the VIBE Machine, we've got good news for you!

The VIBE Experience is open 5 days a week, and we are happy to accomodate your requests for sessions outside our normal business hours! You will find our hours and contact information info below...
VIBE Technologies (inventor Gene Koonce) Website
Do you want your own VIBE Machine?